originally posted
@
Neverland Journey (January 7, 2008)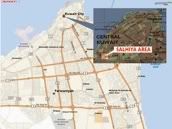 (click to enlarge the map)
(click to enlarge the map)
Menuju Salhiya
...(sambungan dari jalan-jalan ke
Ambassador
)...Selesai belanja di Ambassador kami melangkah menuju Salhiya - daerah yang menurut Papin
feel at home
jika berada di sini. Kunjungan pertama adalah ke toko buku
Q8Books
langganan Papin yang terletak di Al-Salam Tower. Mampir bentar "menikmati" deretan buku-buku bekas yang masih dalam kondisi bagus, ditemani sambutan hangat Pak Jacob, seorang India sang penjaga toko.
Mr. Jacob sang penjaga toko
Setelah itu, iseng-iseng
nglongok
ke basement, tertarik juga untuk menghampiri jejeran toko-toko India, situasinya mirip pasar Tanah Abang sebelum pindah ke gedung baru sekarang. Ada pedagang sepatu, baju-baju murah, sprei, selimut, toko serba ada, toko kosmetik, dll.
Deretan pedagang di basement Al-Salam Tower

Udah puas liat-liat, kami melanjutkan tour *berasa turis*, gak tau mo kemana, yang penting nyari yang unik dan aneh-aneh. Sampai akhirnya kami tiba di Souk Burge Al-Asmar, sebuah toko serba ada mirip seperti Ambassador (Souk artinya pasar). Iseng ahhh cek and ricek! Sekalian nyari kopi dan ulekan/cobek.





Souk Burge Al-Asmar



Deret demi deret rak kami lalui, dengan mata yang selalu awas mode on, kali-kali nemu yang aneh :). Scanning thru the coridor dan nemu kerupuk udang. Abis itu lanjut ke bagian sayur-mayur, mata kami tertuju pada rak pendingin bertuliskan oxtail dalam kurung buntut. Lah kok ada bahasa Indonesianya? Trus trus lah kok di atasnya ada bungkusan terasi, bumbu gado-gado jadi dan telor berwarna pink. Cruing...apaan nih? Tampaknya si penjaga toko menangkap gelagat heran kami.





Ki-ka : terasi Raja Udang, bumbu Gado-gado, telor asin



"From Philipine?" begitu katanya.

"No, Indonesia," jawab kami.

Tiba-tiba si bapak ini langsung nyerocos...

"...Kemiri! bakso! tahu! tempe! terasi! telor asin (sambil menunjuk telor pink tadi)!"

Kami masih bengong surprise, si babe nyerocos terus sambil menawarkan barang-barang dagangan lainnya...

"Krupuk udang! seledri! pare! kincur!"

"What??" tanya kami dengan excited karena gak jelas.

"Kincur! Kincur!"

"Oooo....Kencur," imbuh kami dengan tertawa.

"Ya...ya...do you want??"

Kami menolak dengan sopan karena kebetulan stock di rumah masih ada. Tapi gue sempet ngambil kencur juga. Sebungkus kecil, isi 3 potong kencur seharga 600 fils setara Rp 18.000,- *whatt!!!*. Gak palalah, toh jarang-jarang pake kencur.

Setelah membayar belanjaan, kami berniat untuk pulang, karena hari sudah malam dan semakin dingin. Tiba-tiba mata gue tertuju pada kios penjual tanaman di seberang Souk Al-Asmar. Naahhhh ini dia yang selama ini dicari-cari! Gue pengeeennnn banget pelihara tanaman di apartemen. Katanya sih harga tanaman di Kuwait mahal banget. Iseng aja tanya-tanya dulu buat persiapan nanti kalo udah pindah ke apartemen baru.

Waaahhhh senangnya mampir ke sini, gak sia-sia! Banyak yang kami "dapat". Pulang dengan hati senang dan pasti kami akan kembali lagi ke sana :).