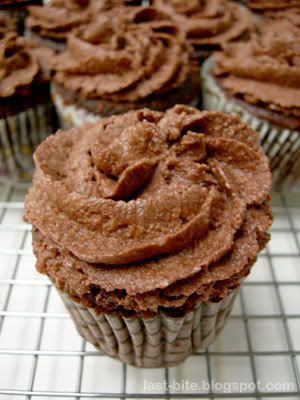 Rasanya kurang lengkap kalo bikin cake tanpa dikasih frosting atau topping. Belakangan ini gue lagi seneng coba-coba aneka frosting buat orderan cupcake. Berhubung cupcake sangat sederhana, rada susah dikasih filling, makanya harus puter otak untuk cari macem-macem resep frosting atau topping. Inspirasinya kebanyakan dari
Diana's Desserts
. Yang akan gue share kali ini adalah resep frosting Chocolate Cream Cheese.
Chocolate Cream Cheese Frosting
Ingredients:
8 ounces cream cheese, at room temperature
8 tablespoons (1 stick/4 oz/113g) butter, at room temperature
1/2 cup unsweetened cocoa powder
1 teaspoon pure almond extract or pure vanilla extract
4 cups confectioners' sugar, sifted
Instructions:
1. Place the cream cheese and butter in a large mixing bowl. Blend with an electric mixer on low speed until combined, 30 seconds. Stop the machine. Add the cocoa powder, extract, and confectioners' sugar and blend with the mixer on low speed until the ingredients are moistened, 30 seconds. Increase the speed to medium and beat until the frosting is fluffy, 2 minutes more.
2. Use at once to frost the top and sides of the cake of your choice or cover and keep refrigerated.
Makes 4 cups frosting (enough to frost a 2 or 3 layer cake).

PS : setelah adonan frosting jadi, gue tambahin graham crumble...enak deh, jadi ada rasa remah-remah cookies-nya

Source :
Diana's Desserts