Hai all!!! Am back!!! Setelah tepar hampir 2 mingguan dan gak nyentuh komputer sama sekali, now...gue kembali di dunia persilatan dapur dan blog :P. Sebelum mulai lagi posting memposting resep, gue mo cerita tour de toko dulu ah.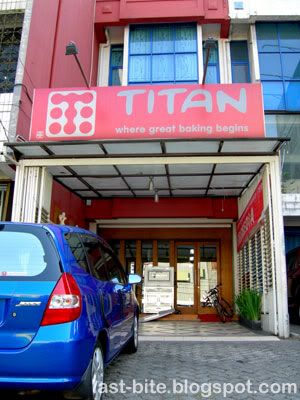 Toko Titan, ini dia Toko Bahan Kue (TBK) langganan gue! Gak komplit rasanya gue bolak-balik ke sini, tapi gue gak cerita-cerita soal toko yang satu ini. "Where the great baking begins"...wuuiiihhh pas banget tagline-nya, kalo gak ada bahan pendukung dan tetek bengeknya yang berkualitas mana bisa terjadi the great baking! Lengkap, gede, adem dan terutama nyaman....ada trolleynya bow, jdi gue bisa belanja sambil ngajak krucil yang didudukin di dalam trolley. Dari mulai pewarna makanan kelas teri sampe kelas profesional ada di sini, koleksi loyangnya pun ok-ok. Ada juga cetakan-cetakan praline berikut kemasannya yang lucu-lucu. Mo cari mixer heavy duty, pasti ada lah ya! Aneka filling selai juga tersedia, berikut topping sprinkles lucu-lucu untuk dekorasi cake. Andalan gue kalo ke sini, beli stock buttercream yang banyak...hehehe...in case sewaktu-waktu butuh dan kalo ada tetangga butuh (halo mbak Yuli Proyekdapurku *wink*), abis gue kan pemalas, mending tinggal beli jadi :P. Juga belanja kacang-kacang import semacam walnut, untuk stock juga. Beberapa produk
Wilton
juga ikutan mejeng di sini, loh.
Soal pelayanan...not bad lah! Pelayan-pelayannya ramah dan cukup menguasai product knowledge. Mungkin juga karena gue termasuk sering belanja di sana, sampe-sampe pelayan-pelayannya hafal anggota keluarga gue, dari suami sampe anak-anak. Mereka juga sabar melayani ngadepin emak-emak cerewet macem gue :).
Kalo udah belanja di sini gue suka lupa diri, bikin suami melotot dan deg-degan saat ngantri di meja kasir...hehehe...gimana nggak, kalo ke Titan gue bisa "ugal-ugalan" belanja, semua pengen dibeli...trus tiba-tiba pengen nyobain resep-resep baru dan saat itu juga kepengen beli bahan-bahannya. Kacau deh!
Terus yah...psssstttt kalo beruntung bisa ketemu pengajar dari Bogasari Baking Center (1 lantai di atas Titan) yang lagi duduk-duduk di bawah dan mereka dengan ramahnya bagi-bagi ilmu per-baking-an....hehehe...sambil menyelam minum air, sambil belanja dapet tips baru dari ahlinya. Atau justru dapet kenalan baru yang sama-sama doyan ke dapur yang juga gak segan berbagi ilmu.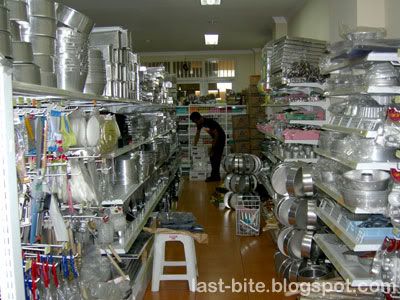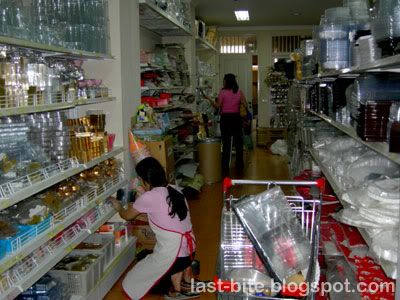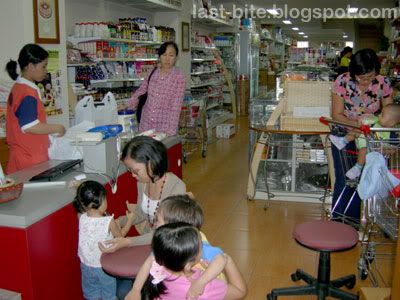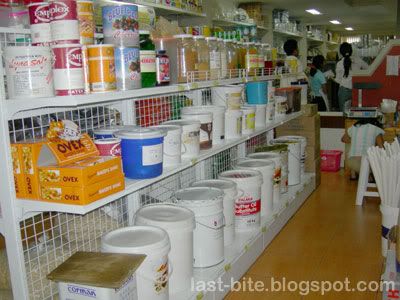 Letaknya di bilangan Fatmawati (kalo dari perempatan besar jalan Simatupang, ambil ke arah Blok M, tokonya ada di kiri jalan). Toko milik bapak Thio Agustinus ini, kerap mengadakan baking course, selain dengan partner
NCC
-nya, karena di lantai 2 toko ini, juga terdapat Bogasari Baking Centre yang secara berkala menyelenggarakan kursus dan sekolah baking.