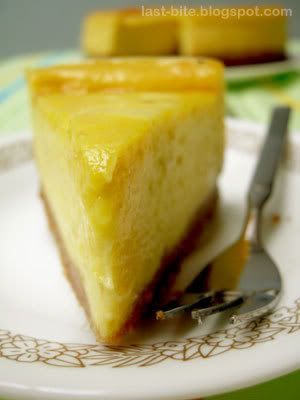 Lebaran kali ini, udah rencana mo bikin cake. Kalo kue kering, gak sempet lah ya (import aja dari tempat mama)...*ntar baby Leia keburu ngamuk minta susu deh, emaknya "autis" di dapur.* Gue juga udah memutuskan gak mau bikin cake yang eneg, yang berat dan yang nyoklat banget. Soalnya masakan-masakan khas lebaran sendiri udah "berat". Jadi pilihan jatuh pada cake dengan bahan dasar buah-buahan. Apalagi kalo pake buah dengan rasa-rasa asem manis, pasti seger deh.
Kebetulan punya mangga mateng, tadinya mo bikin Mango Tart. Tapi pas ngintip isi kulkas, ternyata masih ada sisa Cream Cheese. Ya udah, mending dibikin Cheesecake Mangga aja. Bikinnya cepet lagi.
Rasanya...hhmmmmmmm YUMMY!! Asem-asem manis dengan wangi mangga, ringan dan gak eneg. Saran gue pake mangga kweni kali ya, kalo pake harumanis kurang wangi. Jumlahnya juga boleh ditambah jadi 4 buah mangga. Takaran gula di adonan cream cheese boleh dikurangin dikit jadi 1 cup, biar gak kemanisan.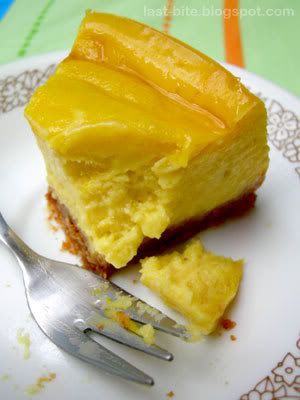 Mango Cheesecake
Crust:
1 1/2 cups graham cracker crumbs
1/2 cup granulated sugar
6 tablespoons (3/4 stick/3 oz/85g) unsalted butter, melted
Filling:
3 large very ripe mangoes (each about 13 ounces), peeled, pitted, coarsely chopped
3 (8-ounce) packages cream cheese, at room temperature
1 1/4 cups granulated sugar
2 teaspoons vanilla extract
4 large eggs
Serve with:
Sliced, peeled and pitted mangoes
Instructions:
For Crust:
Preheat oven to 325°F/160°C. Lightly butter a 9-inch-diameter springform pan with 2 3/4-inch-high sides.
Stir cracker crumbs and sugar in medium bowl to blend. Add melted butter and stir until evenly moistened. Press crumb mixture firmly onto bottom (not sides) of prepared pan. Bake until crust is set, about 12 minutes. Cool completely. Maintain oven temperature.
For Filling:
Puree mangoes in processor until smooth. Set aside 2 cups mango puree (reserve any remaining puree for another use or use to spread over top of cheesecake). Beat cream cheese, sugar, and vanilla in large bowl until smooth. Add eggs one at a time, beating well after each addition. Add the reserved 2 cups mango puree and beat until well blended. Pour filling over crust in pan.
Bake cake until set and puffed and golden around edges (center may move very slightly when pan is gently shaken), about 1 hour 25 minutes. Cool cake 1 hour. Refrigerate uncovered overnight. Run small knife between cake and sides of pan to loosen. Remove pan sides. Transfer cake to platter. Cut into wedges and serve with sliced mangoes.
Makes 12 servings.
Source: Bon Appétit, September 2001
Sumber : Diana's Desserts